Posted by
admin

| Posted in Politics | Posted on 31-07-2013-05-2008
0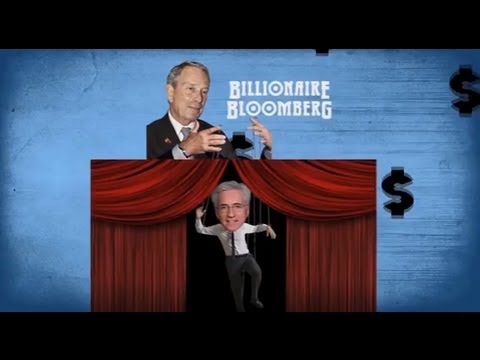 That's an ad from the National Association for Gun Rights, accusing Colorado's Senate Majority Leader John Morse of being more concerned about New York than Colorado, because he reacted to the Aurora massacre by supporting new laws making it tougher for mentally ill people to obtain weapons, as well as a handful of other common sense restrictions. That, of course, has brought the NRA, the Koch brothers, and now the extremist Dudley Brown, founder of NAGR, to Colorado to kick Morse and a fellow Democrat, Angela Giron, out of the legislature.
Here's just a little background on Mr. Brown.
He savagely and routinely attacks candidates and officeholders unwilling to pledge, in writing, their absolute loyalty to Brown on Second Amendment issues. The Supreme Court's Citizens United ruling in 2010—the "corporations are people" case—spurred myriad nontraditional political groups into action, and Brown has capitalized on his group's newfound freedom. He's built RMGO and the National Association for Gun Rights (NAGR) into a double-barreled fund-raising machine that bullies anyone who compromises Brown's pro-gun, anti-abortion, anti-gay agenda. (A favorite showy tactic is driving around in a Pinzgauer, a boxy, big-wheeled Cold War–era Austrian troop truck that Brown calls his "political pain delivery vehicle.") Says former state Representative B.J. Nikkel, a Larimer County Republican who ran afoul of Brown last year after she voted for civil unions legislation: "He's a political terrorist and a modern-day charlatan who operates in the shadows and portrays himself as a supposed 'Christian,' but he uses the people naive enough to believe him and financially support him."

A real charmer, huh? What better partner for the NRA and the Koch brothers? Brown's usual focus is in taking out any moderate Republican still left standing, which is been pretty effective out. It's fine if he wants to play in his own party and doom it to ultimate failure by sending it over the right-wing edge. That's ultimately making the state bluer.
But now he's not just trying to take over the Republicans, but the state. Don't let him.
Please give $3 to each of the two Democrats targeted by this recall.