Posted by
admin

| Posted in Politics | Posted on 30-09-2014-05-2008
0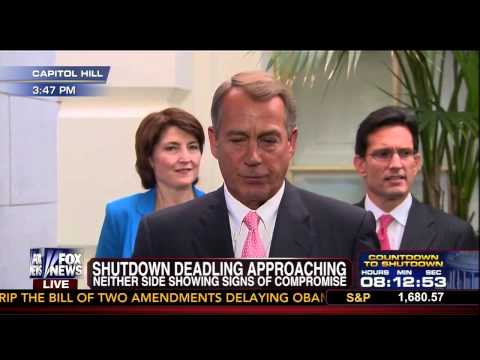 House Speaker John Boehner on Sep. 30, 2013, ruling out a clean bill to prevent a shutdown
Exactly one year ago, House Republicans did what should have been unthinkable: They shut down the federal government when John Boehner refused to hold a simple vote on keeping the government running at existing levels. Their goal: To force President Obama to defund and effectively repeal Obamacare.
A little more than two weeks later, they finally backed down and allowed House Democrats to end the shutdown. In the end, they got nothing but blame for their temper tantrum: Obamacare is still here today, and thanks to it millions of people around the country have health insurance that they otherwise would not have had.
Politically speaking, the only thing that allowed Republicans to escape a long fall and winter of stories about the shutdown was the fact that the initial Obamacare rollout was rocky. But that doesn't change the fact they failed to accomplish a single thing with their shutdown, and while it might make it harder to remind Americans that the GOP won't hesitate to do the same thing next year, there's no reason to believe they won't.
But even if the political impact of the shutdown has been overshadowed by other issues, the fact that President Obama and Democrats refused to be bullied by Ted Cruz tactics and that the GOP ultimately backed down is a lesson Washington Democrats should never forget. Even though they won that political battle, the biggest winners are the public they were elected to serve, because Obamacare is here to stay and millions of Americans are better off as a result. And when the November 15 open enrollment period begins, those numbers will grow even larger.
Help elect more and better Democrats this November! Please give $3 to Daily Kos' endorsed candidates and strike a blow against Republicans.